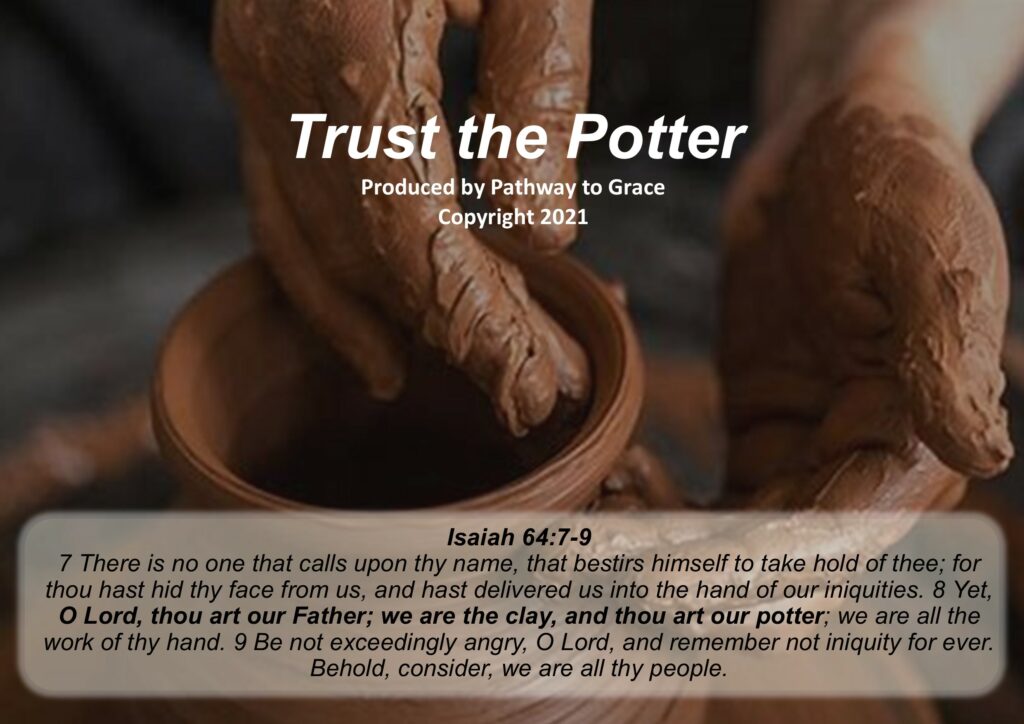 Isaiah 64:7-9
7 There is no one that calls upon thy name, that bestirs himself to take hold of thee; for thou hast hid thy face from us, and hast delivered us into the hand of our iniquities. 8 Yet, O Lord, thou art our Father; we are the clay, and thou art our potter; we are all the work of thy hand. 9 Be not exceedingly angry, O Lord, and remember not iniquity for ever. Behold, consider, we are all thy people.
---
PATHWAY TO GRACE
ABOUT PATHWAY TO GRACE
Who is 'Pathway to Grace'; we are a collective of Christians that are willing to serve and glorify our Heavenly Father and his son our Lord and Saviour Jesus Christ. The offering of our service through the form of songs has been inspired by our Lord Jesus Christ for the upbuilding and encouragement of those who also have faith in a saviour, who sacrificed himself and died for us and through his great love has given us a pathway to receive a grace that is not able to be matched in this world, and provided us a great hope of eternal life.
Ephesians 2:4-10
4 But God, who is rich in mercy, out of the great love with which he loved us, 5 even when we were dead through our trespasses, made us alive together with Christ (by grace you have been saved), 6 and raised us up with him, and made us sit with him in the heavenly places in Christ Jesus, 7 that in the coming ages he might show the immeasurable riches of his grace in kindness toward us in Christ Jesus. 8 For by grace you have been saved through faith; and this is not your own doing, it is the gift of God— 9 not because of works, lest any man should boast.10 For we are his workmanship, created in Christ Jesus for good works, which God prepared beforehand, that we should walk in them.
---
Brad Quilliam: Prefers to share songs from either personal experience or revelation, to provide encouragement and a strengthening of faith in our Lord Jesus Christ.
A committed Christian, with many years experience through various church ministries and the ability to demonstrate stability under extreme circumstances. He has extensive experiences nationally and internationally in the following; community development, disaster recovery and experienced many years of establishing and managing business and developing innovative enterprises to serve and provide opportunities for employment.
Below are songs that Brad Quilliam wrote and sang. We hope you will enjoy them, and be a blessing to you. Click on the song you wish to listen to.
---