PATHWAY TO GRACE
ABOUT PATHWAY TO GRACE
Who is 'Pathway to Grace'; we are a collective of Christians that are willing to serve and glorify our Heavenly Father and His Son our Lord and Saviour Jesus Christ.The offering of our service through the form of songs has been inspired by our Lord Jesus Christ for the upbuilding and encouragement of those who also have faith in a saviour, who sacrificed himself and died for us and through his great love has given us a pathway to receive a grace that is not able to be matched in this world, and provided us a great hope of eternal life.
Amen!
I was led to compose the song "Come On Home Back To Jesus," and for a time, I was able to share/perform it live. With the efforts of many, it has now been recorded with a video clip. I hope you enjoy it and are encouraged. And if you would like to encourage others to seek the Lord, I'm more than happy for you to share what the Lord gave to me to call his people back home. Just like the Prodigal Son.
Luke 15:3-7
3 So he told them this parable: 4 "What man of you, having a hundred sheep, if he has lost one of them, does not leave the ninety-nine in the wilderness, and go after the one which is lost, until he finds it? 5 And when he has found it, he lays it on his shoulders, rejoicing. 6 And when he comes home, he calls together his friends and his neighbors, saying to them, 'Rejoice with me, for I have found my sheep which was lost.' 7 Just so, I tell you, there will be more joy in heaven over one sinner who repents than over ninety-nine righteous persons who need no repentance.
Brad Quilliam is a member of the 'One Day in Melbourne' conference managed by Well-Being Australia and Press Service International. Brad prefers to share songs from either personal experience or revelation to provide encouragement and a strengthening of faith in our Lord Jesus Christ. A committed Christian with many years of experience through various church ministries and the ability to demonstrate stability under extreme circumstances. He has extensive experience in community development and disaster recovery and experienced many years of establishing and managing businesses and developing innovative enterprises.
—
Ephesians 2:4-10
4 But God, who is rich in mercy, out of the great love with which he loved us, 5 even when we were dead through our trespasses, made us alive together with Christ (by grace you have been saved), 6 and raised us up with him, and made us sit with him in the heavenly places in Christ Jesus, 7 that in the coming ages he might show the immeasurable riches of his grace in kindness toward us in Christ Jesus. 8 For by grace you have been saved through faith; and this is not your own doing, it is the gift of God— 9 not because of works, lest any man should boast.10 For we are his workmanship, created in Christ Jesus for good works, which God prepared beforehand, that we should walk in them.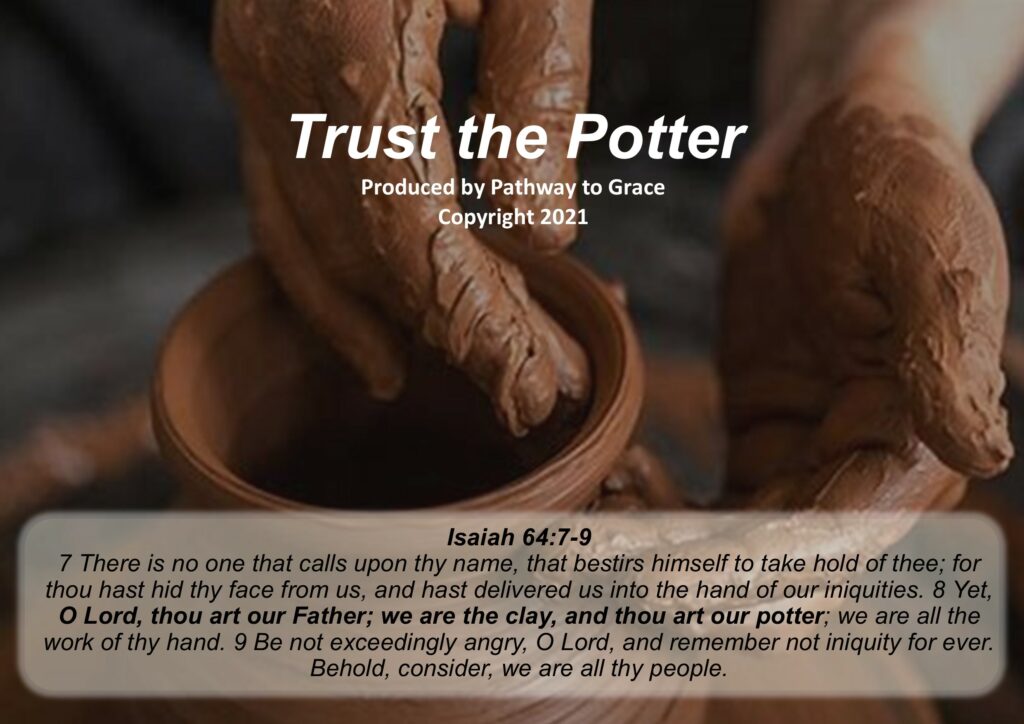 Trust The Potter